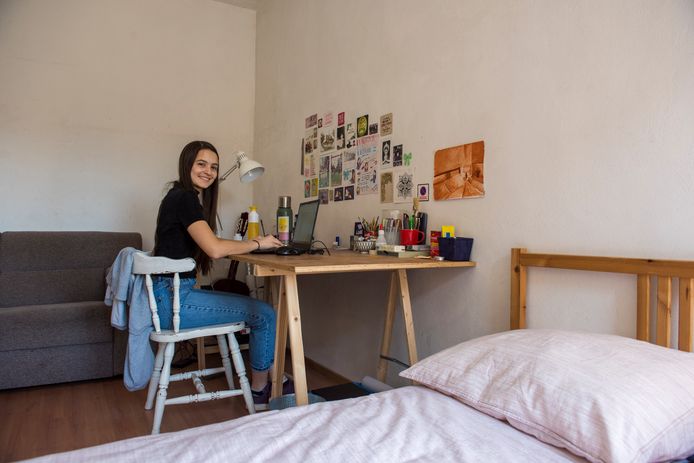 Most of the international students of TU Eindhoven stayed in town
EINDHOVEN - Of the 1,700 international students at Eindhoven University of Technology (TU/e), it seems that very few have returned to their home countries. The rest are trying their best to continue to study and live in the city. The university is doing what it can to help.
Delen per e-mail
"It was really difficult at the start, but I'm already getting used to it," says the Argentinian TU/e-student Sofìa Ghigliani (19) on the phone. She's alone in her room in a house in Woensel-West. Her housemates from France and Latvia have returned home. "I'd probably have done the same if I came from Europe. But I didn't know when I was expected to return, it could have been just a few weeks later. In that case, a trip to Argentina is far from easy," says the first-year student of Architecture, Urbanism and Building Sciences from Buenos Aires.
This makes her one of the many international students left behind 'cooped up' in Eindhoven. TU/e does not know exactly how many of them have returned home. There is no obligation to notify the university and anyone following online teaching can also do it from China or South America. The language lessons, for example, are still attracting a lot of students online. As far as is known, there have not yet been any cases of coronavirus infections among students.
According to Erik de Jong, TU/e community manager, all of this is mainly because of the university's rapid gearshift. "We were able to make it clear to students quite quickly that they can continue their programs online. We made use of a week without lectures to set up the online teaching. After that, everything was run via the internet," says De Jong.
However, not everything can continue online. For example, Kristi Baker (34, from Florida in the United States) soon realized that she could no longer access the laboratory in the Department of Chemical Engineering for her PhD research. "I'd hoped that it might be possible, which is why I stayed. But it soon became clear that the lab was closing temporarily. Hopefully, I'll soon be able to start my research up again, otherwise I won't be able to complete my PhD," continues the American.
Time difference makes it difficult
She is now throwing herself into writing her dissertation using the data collected from earlier research. "I'm now trying to apply a little additional creativity to the process, which would otherwise come to nothing," says Baker. As it happens, she was also applying for a new passport, which made traveling more of a problem for her. "Besides, the time difference would have made it difficult to follow classes. I think I'm probably better off here."

Ghigliani acknowledges that it can be difficult passing the time in the house on your own. Of course, she has her degree program, which keeps her active, although things were relatively chaotic at the start. "It's such an extraordinary situation and it takes time for everyone to get used to it." But apart from that? "When I first arrived here in August, I still didn't really know what it's like to be alone. I'm learning that very quickly now", says the Argentinian. Baker is also finding it far from easy. Although she's now also become accustomed to the situation, she says. "I'm also still working for the meal delivery service Uber Eats. It gives me an excuse to cycle and helps me out financially, because I don't have rich parents." Both have also read at least one book already.
But, as they explain, it's the online activities that really help to combat boredom. They play Minecraft or other games, do pub quizzes or have video chats with all kinds of friends and with family more than ever. According to Ghigliani, the online contact actually makes everything that is far away that much closer. "Whether I'm talking to my friends in Eindhoven or Argentina, or with my family there, everything seems very distant. In a way, that also makes it all seem closer."
We have very little contact, also because there's no communal area. But it's fun to hear what everyone is doing in the house. When you hear that someone is doing an online lecture, it encourages you to start studying yourself.
Baker is also doing a lot more online. "I Skype a lot with my family, because they also have time to spare and are getting bored. I also have a dining group that meets every month. We're now cooking together online, which is great fun. I'm also a member of the European student group that emerged during the lockdown in Italy. We do a lot together online. The Eindhoven chapter organized a painting evening, using the program MS Paint."

Funnily enough, both have already done some DIY in their flats. Ghigliani has even repaired some cracks in the walls. Baker has been cleaning more than usual – her bedroom and bathroom have never been so clean. Does she have contact with the other four residents of the house on Kempensebaan? "We have very little contact, also because there's no communal area. But it's fun to hear what everyone is doing in the house. When you hear that someone is doing an online lecture, it encourages you to start studying yourself," says the American.
Prevent that students become socially isolated
"At TU/e, we're also trying to prevent students becoming socially isolated now that the university has closed. Because of our many contacts with China, we quickly set up a coronavirus team. We also offered people an opportunity to ask questions. At the start, we were receiving dozens of questions every day. There are now just a few. That helped us to adapt quickly," says De Jong.
But in addition to the information provided via newsletters, apps, the TU/e website and its Cursor news website, much more is happening. TU/e Community Radio has been set up on the internet, by the students themselves. It features all kinds of topics, including student associations introducing themselves, ranging from the golf club to the study associations. But the main focus is on music and chat. "The many clubs and associations at the university have also been affected," says Annemarie Urselmann,student facilities manager at TU/e. "Fortunately, they also quickly went online. What they offer is highly varied, from games and physical training organized by the sports clubs through to online debates about serious issues."
There are few if any signs that students are struggling to cope, says Urselmann. She is responsible for the student counselors and psychologists. So far, they have not been any busier than before. "The online teaching gives all the students structure, routine and something to hold onto. It ensures that they get out of bed don't just sit on the sofa in their pajamas. But, of course, there are always students struggling with loneliness, depression or anxiety and they are now more likely to face problems. Our network of students and lecturers has an important role to play in this. They are our eyes and ears. If, for example, someone stops appearing in a seminar, they flag it up. Then you can take action to do something about it. It works because TU/e is a caring community," says Urselmann.
In order to get ahead of the situation, the university is now setting up a special hotline for anyone who needs to talk to someone. "Even though we're now receiving fewer questions, not everyone enjoys sitting in isolation," explains De Jong. "Anyone who wants a chat can ring the hotline. An appeal has already resulted in thirty student volunteers. These students fully understand why there is demand, because there will definitely be a need if you're sitting in isolation in a strange place in a foreign country with no family."
"And we're going to continue our efforts as long as possible," says De Jong. The exams are also continuing 'as normal' online, orally or in the form of assignments. However, finding the right alternative for exams that prevents cheating is not always easy. "Ideally, we'll resume working normally as soon as we can. But while that's not possible we'll continue to try to stay one step ahead of events."
Verder in het nieuws